Highlights from the Inaugural SickKids Innovation Showcase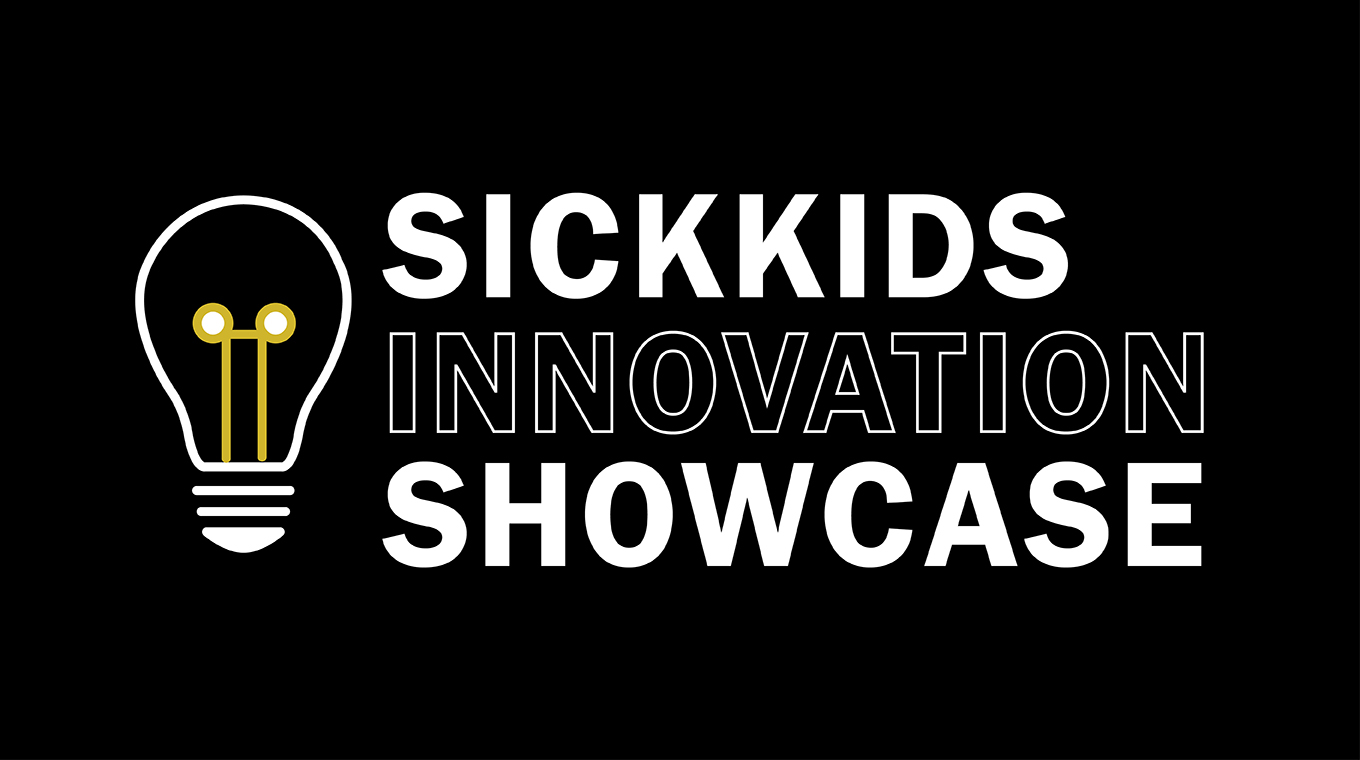 The Industry Partnerships and Commercialization (IP&C) office at The Hospital for Sick Children in Toronto (SickKids) hosted the first SickKids Innovation Showcase on May 19, 2021. The event highlighted the top therapeutics, research tools, and in vitro diagnostics innovations with commercial potential at the institution.
The goal of this event, held during Canadian Innovation Week, was to make the research innovations and the entrepreneurial researchers at SickKids more accessible to investors, entrepreneurs and potential partners – folks with the experience, capital, and networks to help us build companies and license our technologies. This event was an important step in brokering those future partnerships and highlighting SickKids as place with breakthrough innovations for industry and for patients.
This inaugural showcase, with 200 attendees, was fully virtual due to the COVID-19 pandemic, however this format allowed for a wider range of attendees to join from across North America.
The afternoon event was split into two blocks of presentations, the first highlighting four therapeutics technologies and the second focused on diagnostics and research tools. Each 5-minute presentation was followed by 5 minutes of Q&A led by panels of investors and industry experts. Thanks to Jacki Jenuth of Lumira Ventures, Deborah Palestrant of 5AM Ventures and Allyson Tighe of Amplitude Ventures for their engagement on the therapeutics opportunities, and to Matt Clancey of LabCorp, Wouter Meuleman of Illumina Ventures and Shobha Parthasarathi of Xontogeny for further exploring the diagnostics/tools pitches.
Therapeutic technologies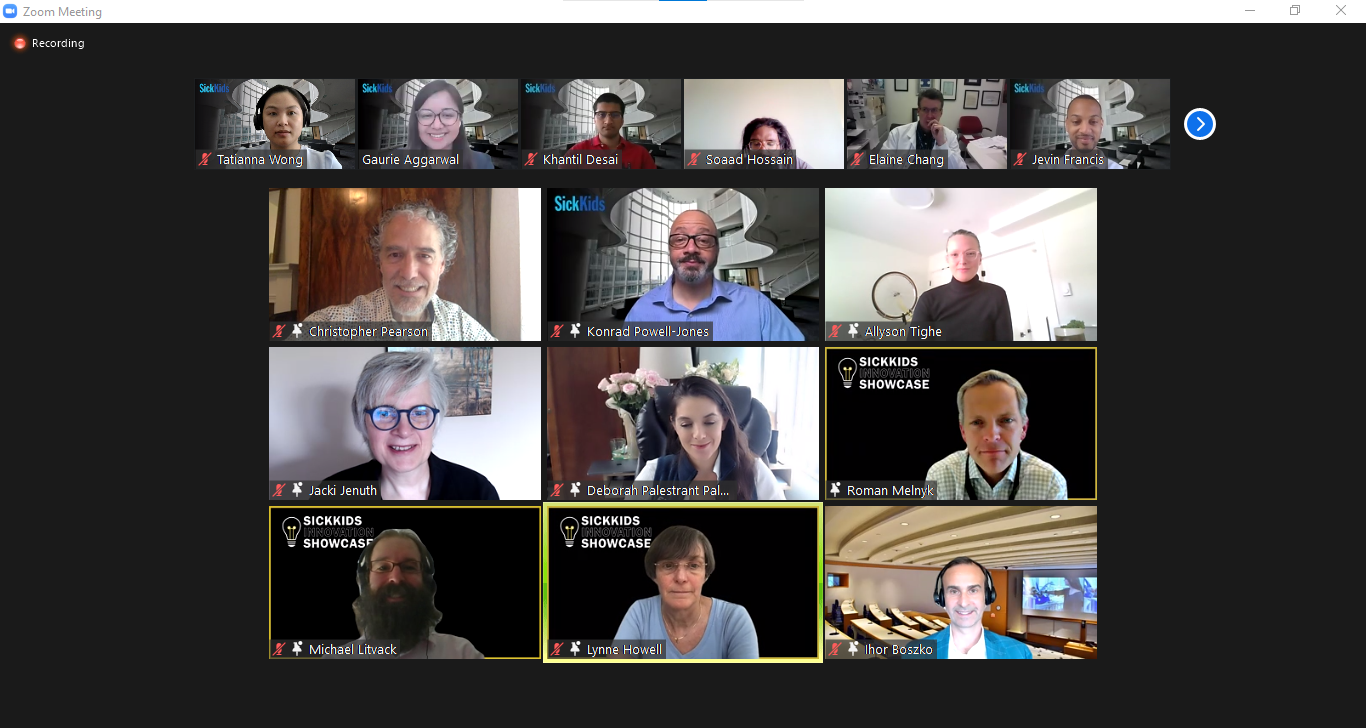 The first half of the event was spent highlighting four SickKids therapeutics technologies, with each presentation followed by a Q&A session with our three panelists.
L-R from the top: Christopher Pearson, SickKids; Konrad Powell-Jones, SickKids; Allyson Tighe, Amplitude Ventures; Jacki Jenuth, Lumira Ventures; Deborah Palestrant, 5AM Ventures; Roman Melnyk, SickKids; Michael Litvack, SickKids; P. Lynne Howell, SickKids; Ihor Boszko, SickKids
Dr. Roman Melnyk's presentation kicked off the main event, describing a novel intracellular delivery platform that can transport a wide range of protein-based cargo into cells, including an enzyme that specifically cleaves RAS oncoproteins. With the FDA's recent approval of LUMAKRAS, the first KRAS-targeting drug, Dr. Melnyk's technology is demonstrating broad RAS-targeting utility at an opportune time. Dr. P. Lynne Howell's presentation "Novel therapeutic compositions for degrading bacterial and fungal biofilms" highlighted the utility of certain natural enzymes in breaking down biofilms to enhance the effectiveness of traditional antibiotics, and to prevent colonies from attaching to medical device surfaces.
Next up was Dr. Martin Post's team describing their progress in engineering human alveolar-like macrophages as a cell therapy for respiratory diseases, including RSV and bacterial infections due to cystic fibrosis. Rounding out the therapeutics session was Dr. Christopher Pearson, whose team discovered a small molecule that binds selectively to the DNA loop in trinucleotide repeat diseases preventing their size increase, forming the basis for a therapeutic platform. Recent data from mouse model studies, and in treatment of cells extracted from tissues of affected individuals, show promise that this could be a viable treatment for Huntington's disease.
During the intermission break, Ihor Boszko (Executive Director, IP&C) highlighted the utility and success of the research institute's Proof-of-Principle funding program that supported many of the presented projects, and the future Technology Development Fund. These two funds together will be at the core of an Innovation Accelerator at SickKids. This initiative is currently seeking philanthropic support and, when funded, will enable more later-stage partnerships to bring innovative SickKids technologies to market at higher valuations.
Diagnostics and research tools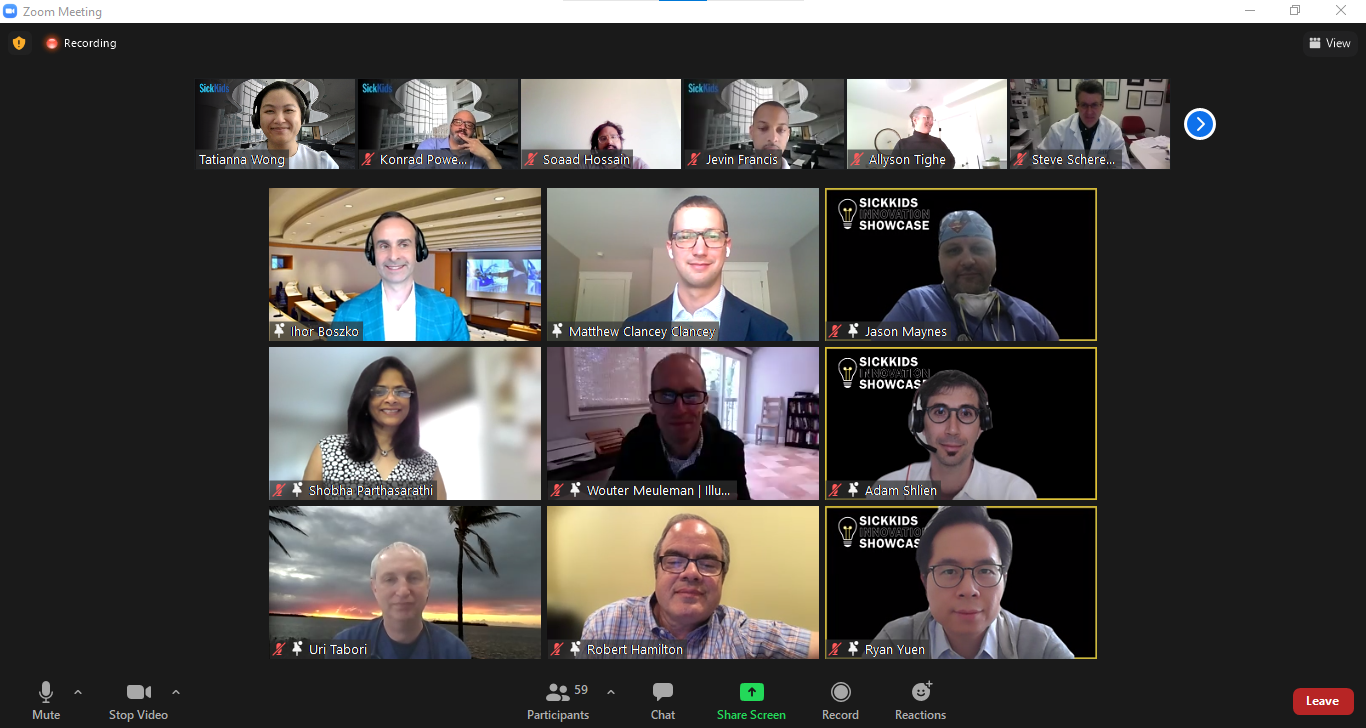 The second half of the event highlighted four Diagnostics and Research Tools technologies, with each presentation followed by a Q&A session with our three panelists.
L-R from the top: Ihor Boszko, SickKids; Matthew Clancey, LabCorp; Jason Maynes, SickKids; Shobha Parthasarathi, Xontogeny; Wouter Meuleman, Illumina Ventures; Adam Shlien, SickKids; Uri Tabori, SickKids; Robert Hamilton, SickKids; Ryan Yuen, SickKids
The second half of the program, focused on diagnostics and research tools, started with a presentation from Dr. Ryan Yuen, titled: "Whole-genome detection and interpretation of repeat expansions in autism and related disorders" describing a method to detect tandem repeats allowing identification of gene candidates involved in ASD, which can also be applied to other complex genetic disorders. Drs. Adam Shlien and Uri Tabori then pitched their comprehensive "Machine learning-driven NGS-based diagnostic tests to optimize clinical response in oncology", which leverages RNAmp, genomic hypermutant mutant analysis, MSI, SNV, MMRD and proprietary POLE signatures to inform oncology treatment.
Dr. Robert Hamilton presented his project, "Highly sensitive diagnostic tests for the prevention of sudden cardiac death", which allow for more sensitive and specific identification of individuals with ARVC and Brugada disease than is possible with the current standard of care. To round out this session, Dr. Jason Maynes provided and overview of "MATCH: Machine learning algorithms for toxicity and cardiac health", which facilitates drug development by providing a robust cardiotoxicity profile unparalleled in the industry, translating to reduced cardiotoxicity of drug candidates, reducing failures and improving clinical trial success.
Audience Choice Award
Audience members had the opportunity to participate following the presentations by casting their votes for their favorite pitch of the day. Congratulations to the Audience Choice Award winner, Dr. Christopher Pearson! His presentation on treating repeat DNA expansions was the crowd favorite and secured $10,000 in additional funding to advance the research.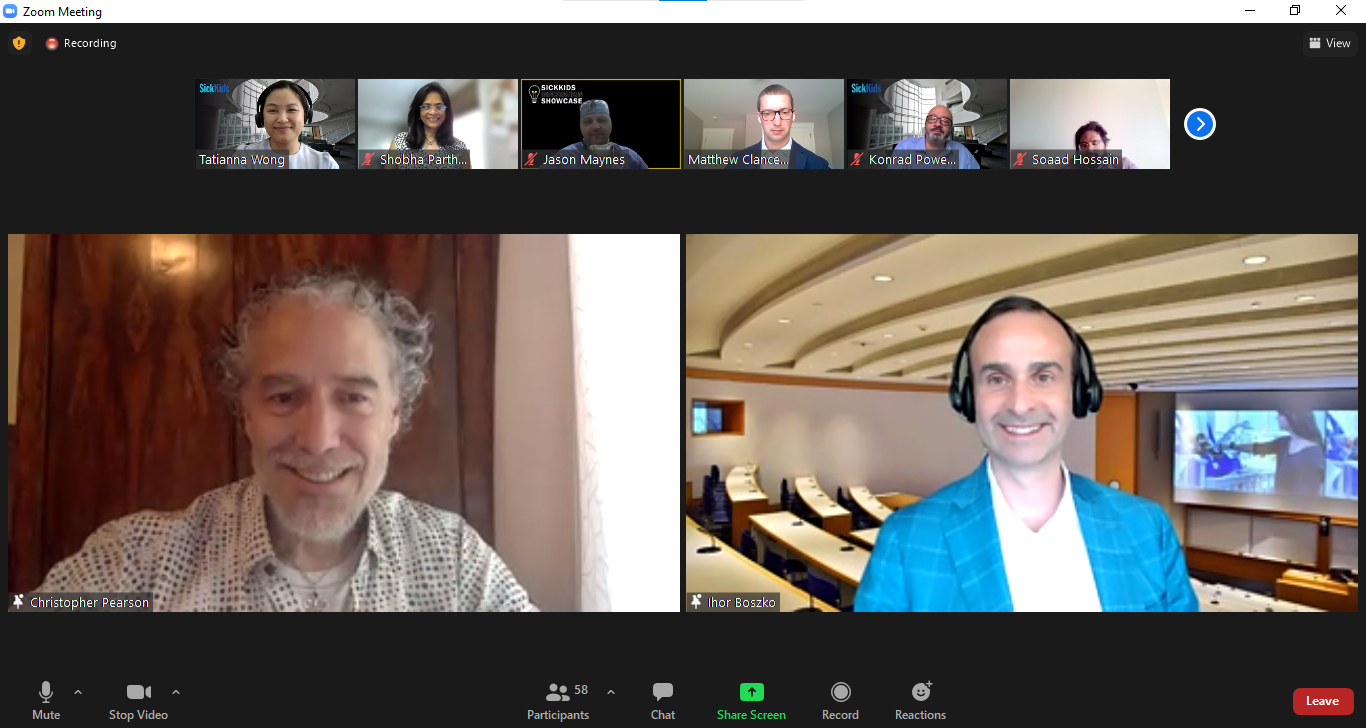 Dr. Christopher Pearson won the Audience Choice Award for his presentation titled "Methods of treating trinucleotide repeat expansion diseases"
If you missed the event, or would like to revisit any of the opportunities, please download the Technology Pitch Book (PDF) for further details about each technology.
Thank you to the researcher-presenters who put together stellar presentations, to our panelists for lending their time and expertise to our event, and a big thank you to the IP&C team for working over the past six months to bringing this unique event to fruition!
We are looking forward to seeing you all again next spring, for the second annual SickKids Innovation Showcase.